Last weekend I attended Vogue Knitting Live in Chicago. This is the second big knitting event I've been to, and the first time I've ever taken a knitting class.* I posted some pictures to Facebook during my class, but here are some other highlights from my trip. (If you haven't already, Like
ChemKnits on Facebook
to see current WIP's of my knitting, spinning and dyeing.)
*In 5th grade my teacher, Mrs. Fox, taught my friend Lindsay and I to knit during indoor recess. We later did dyeing yarn and other fun crafts, too.
I took the "Designing Your Own Triangle Shawl" class by
Brooke Nico
. I had initially registered for a Design Your Own Lace Shawl class (that would discuss more types of shapes and coming up with motifs), but that class was canceled. I have knit a couple triangle shawls, so I am familiar with the construction. I have also designed a number of knitting charts and familiar with using my computer to draw them. (See my
Drawing Knitting Charts in Excel Tutorial
.) I mention what I knew how to do before the class because I wanted to point out that I was in a good place for what we were about to learn. A few of other students left the 3 hour class early because they felt it was over their heads.
Brooke's handouts are great. There are schematics to show how the charts align, directions on how to start the garter (or stockinette) stitch tabs for even or odd # stitches and sample designs. Here are some of my notes from her lecture on designing triangle shawls:
Using a stockinette tab (rather than garter st tab) gives an applied i-cord like finish to the top of the shawl.
We learned how to orient your graph paper to draw your charts on the triangle shawl and that you only need to draw a chart for one half.


She recommends drawing out the YO spine on your graph paper first, and then trying to get your motif to fit into that triangle.
When you have your motif (say 8x8 sts) block off areas the same size on your chart to see how they orient within the YO spines. Then you can apply the charted symbols themselves. This is when you can decide if you want to start with an even or odd # of sts between YO's to get balance to choose what tab to make.
Once you have your chart and spine int he section, extend the charts to fill any blank space to make it more continuous.
The best piece of advice I got from Brooke was to
Just Swatch It
! When I was waiting for us to start the next section, I swatched up a lace "I" that sketched ages ago. Rather than trying to draw mutliple forms on the chart, draw one and try it out. If I don't like how it ended up, then I can try tweaking again.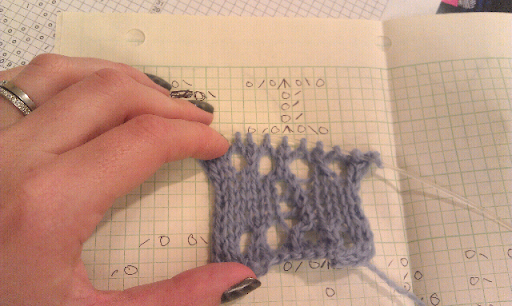 I made a friend from Michigan, D
* (I am awful with names, so I cannot remember the rest, but I think of her as Denise in my head.)
We had a lovely time chatting waiting for the class to start. When it was time to start making our triangle base, I discovered that I had forgotten to put stitch markers in my bag. I was prepared to use my hoop earrings to mark the center stitch when Denise offered me some of her markers. Unfortuately, Densie was one of the students who left the class early. When I tried to give her the stitch markers back (knowing that this swatch I made would be frogged eventually), she told me to keep them and pass some on to someone else in need someday. What a wonderful random act of kindness!
Ultimately, did I need an in person class? Maybe not. If this information was available as a YouTube video, I would have the same knowledge that I do now. Am I glad that I took the class? Absolutely! I cannot wait to take more classes in the future.
Another nice feature of registering for a class is that you get 3 day access to the marketplace included. Now, I wasn't going to treck to downtown Chicago three days in a row, but I was more than happy to stop by after my lesson. Unlike the other yarn festival I attended, there was not very much roving. I was a bit dissappointed, since I was looking to fuel my spinning addiction. I ended up purchasing one skein of yarn at the festival, but I will explain more about that yarn at a later date. (Once the recipient has received the gift made out of the yarn. It will become too obvious if I share it now.)
I saw this stunning Thinking of Waves shawl on display in the marketplace. I would have never thought of combining these colors, but the effect is so elegant and expensive looking.
What about my design? Well I am saving this for a later date. Hopefully I will finish the design and knit a sample up in early 2013. For now, I am hoping to get a nice collection of
Lace Knitting Books
for my birthday so I can get some more inspiration.