Go Terriers! This is a cute little sweater that would be easy to adapt to the colors and letters of your alma mater. Just substitute letters that are 5 sts high in place of the BU.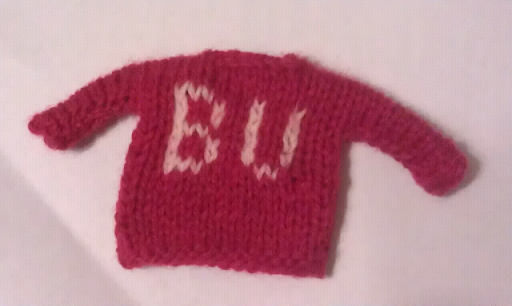 Materials
Knitting Needles

: Size 1 (2.25 mm)

Yarn

: ~20 yards total Fingering weight KnitPicks Palette Yarn in two colors, Red* (2-3 g) and White (1g) (*I dyed the red yarn for this project myself.)

Gauge

: Not important for the completed project

Misc

: yarn needle.
The Pattern
1. Cast on 16 sts in MC
2. (WS) Knit across
3. K across (RS)
Rows 4-9. Knit in stockinette
(Knitting on RS rows, Purling on WS rows
.)
Rows 10-15. Begin the BU lettering (see below), following the chart. Continue to K RS and P WS rows.
16. P16 (finishing the top of the BU chart), cast on 8 stitches with the
backwards loop cast on method
. (24 sts)
17. K 24 in MC, CO 8 sts using backwards loop cast on method (32 sts)
18. Purl across
19. K across
20. P 13, bind off 6 sts, P13. (26 sts.)
21. K13, cast on 6 sts using backwards loop method, K 13 (32 sts)
22. P across
23. K across
24. P across working chart as directed (the top of the second set of lettering begins here.)
25. Bind off 8 sts, K 24 working chart as directed (24 sts)
26. Bind off 8 sts, P 16
Rows 27-38. Work in stockinette, following chart where applicable. (Even rows purl, odd rows knit.)
Row 39: (RS) bind off purlwise.
The Chart
- The following chart follows the written directions above to help with placement of the colorwork letters in with the rest of the design.
Odd rows are RS, Even rows are WS. Read chart right to left on RS, left to right on WS.
Finishing
Blocking isn't required, but may make the seaming easier. Turn the sweater in half with the RS facing. With the loose ends (or extra red yarn if necessary) sew up the side seams and under arms. Weave in all remaining loose ends on the WS of the sweater. Turn right side out. Attach ornament hook and hang on your tree!
---------------------------------------
Abbreviations Used in this pattern:
Kfb - increase by knitting into the front and back of a single stitch.
M1 (Make 1)- increase stitch by picking up yarn between two stitches, twisting and knitting.
K - knit
P - purl
I-cord - knit stitches on dpn's without ever turning the needle (effectively knitting in the round with a small number of stitches.)
SSK - decrease by slipping two stitches then knitting them together. Alternatively, you could slip one stitch, knit one stitch and pass slipped stitch over.
K2tog - decrease by knitting two stitches together.
This knitting pattern was created by ChemKnits for your personal or charity use. You are not to distribute or sell this pattern without the permission of ChemKnits.
© 2012 ChemKnits